Broccoli Raab
Introducing Broccoli Raab... Greens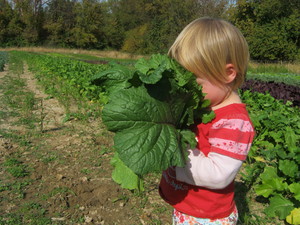 This new bunched green is broccoli raab, which might be a new food for many of you. A quick disclaimer: we're still learning how to grow broccoli raab the right way, which should come with small "broccoli" florets. After a few years, it's still a challenge. In the meantime, the greens are wonderful! They are VERY nutritious and simple to prepare.
Our raw food members should love adding this raw green right into smoothies, salads, or purees. For those of you who prefer to cook your greens, be aware that broccoli raab leaves are much thinner than kale, chard, or collards, which tend to be chewy. This means that broccoli raab leaves cook down very fast. This also means that they will "wilt" in a viniagrette or soup much faster, too.
We have to admit that some of us like growing broccoli raab at the farm, and some think it's a rather silly crop. In cases like this, the one of us who likes it takes full responsibility. So, we'd love to know what you think. It will likely be in the share a few weeks, so you'll have a few more chances to try and try again. Just remember that these greens grow VERY WELL in our midwestern autumns and are an essential part of eating with the local seasons. We'll do our best to harvest the best of each season so you can enjoy the best of what's provided.
Our favorite way to enjoy greens like this is to either chop them up into salads with a viniagrette or honey mustard dressing; or to stir-fry very quickly with garlic, onions, salt (or tamari/soy sauce), pepper, and maybe a drop of sesame oil, as a side. Done this way, it goes well with rice or pasta, too, all mixed up. All of our greens can be prepared in very simple, straightforward ways. The ultimately easy way is to chop them up and add them to any kind of soup. In this way, you get all the nutrient bang without much effort at all!