Salad Mix
What's in the Salad Mix?
The great thing about eating with the seasons is that you often get exactly what you need for optimum health when you need it. This time of year, the nutritional content of fresh-picked foods are very high, mostly in the form of greens and roots. This means that you get a big boost to your immune system heading into winter right in the food you eat! Baby salad greens are a very common this time of year because they grow very well in our climate during the fall.
So what is your salad mix made up of? The salad blend is made up of from 6 to 10 different baby greens, including lettuces, Asian greens, and members of the spinach family: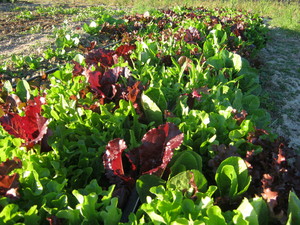 The photo above shows Baby Lettuce, which is a blend of about 10 different lettuce varieties, include oak leafs, romaines, red romaines, red leafs, butters and green leafs. Baby lettuces are the same as adult lettuces except that we grow them tightly and harvest them much younger. The lettuces have great flavors and add good roughage to salads.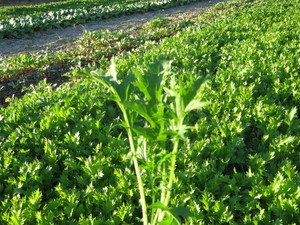 This is Mizuna, an Asian green, as well as a member of the cabbage family (Brassicaceae). Mizuna has a slight spicy flavor, but not so much in the fall, when temperatures are cool. Mizuna is often found in salad mixes because it is very prolific. It's the fastest growing green, and has a very high germination rate. It's mild fall flavor complements both other mild greens, as well as the more spicy greens, like....
Red Mustard!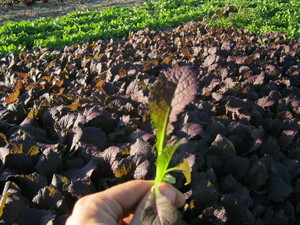 Red mustard has a rich 'wasabi'-like punch that can be shocking in summer, but nice and smooth in the fall. This spicy mustard adds excellent variety to the flavor of the salad mix, as well as color. Like wasabi, the punch is immediate and fun, but fades quickly into a nice, rich aftertaste. Mustard, of course, is very nutritious.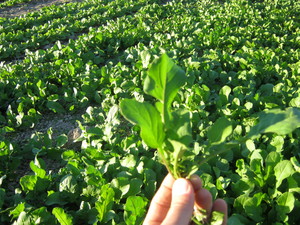 This is Arugula, one of our most fascinating greens. Chefs often feature arugula by itself, often accompanied by beets (we also hope to offer it as an item by itself later in the season). It's flavor is described as nutty and bitter. In the fall, the nutty flavor comes through more than the bitter. For those of you, like myself, who don't naturally have an affinity for the bitter flavors, they're worth giving a chance, because our bodies LOVE the bitters, even if our taste buds need a little coaxing. Bitter flavors can be downright addictive! In the salad blend, arugula adds spice and variety.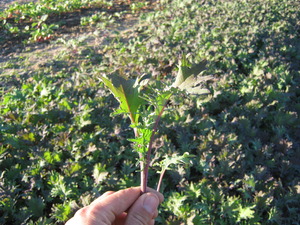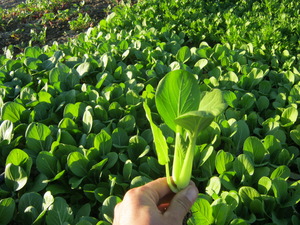 Above are two of our true "baby" greens: baby kale and baby bok choy. These are the very same varieties we grow for the more adult sizes or for bunching, but we sow these tighter and harvest them much sooner. Baby kale has an almost sweet flavor, and is very tender, at this young stage, while baby bok choy retains the sweet crispness characterist of it's adult form. These are the leaves that truly boost your immunity. Kale is a "power food" known for being pound-for- pound one of the most nutritious foods out there!
And, then Tat soi...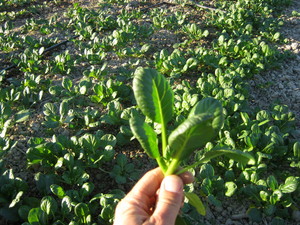 Tat soi is often mistaken for spinach, but it, too, is a member of the cabbage family. It's somewhat like bok choy, but comes with a slightly richer flavor. It is never spicy, always mild, and can even be grown out to bunching size. It's round shape adds a nice textural touch to the blend, complementing other long and slender leaf shapes. Like other "brassica's", it is very high in nutritional content.
There are many other greens, too! We're always adding new greens to the mix, including baby beet greens, baby chard, tokyo bekana, vitamin green, mache, etc. The point is that this is an exceptional time of year for all kinds of greens, and a wonderful time to enjoy salads as we all gear up for the cold winter ahead...