May 31, 2010
Week 1 Newsletter, 2010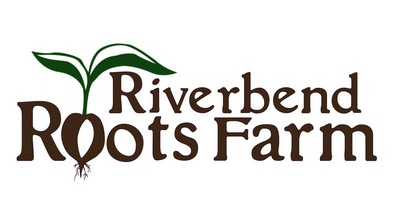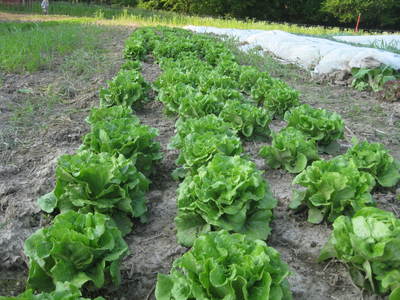 THE FIRST HARVEST IS HERE... BUT PLEASE READ ON FOR FULL FIELD UPDATE....

What's In Your Share

Lettuce, Cilantro, Radishes, Swiss Chard, Kale, Bok Choy
The great news is that the harvests are here! It's been a challenge this spring with all the ups and downs of weather, and a few crops have been lost to the elements, but we've kept up with plantings and weedings and here we are. So please review your distribution location and share type and call or e-mail if you have ANY questions.
Cooking with Greens

A quick hint in preparing your greens: cut the leaves into thin strips, add olive oil, salt and garlic to a skillet or wok and heat on medium-high heat. Add the greens and cook for a minute or two until wilted. Add any seasonings, like tamari, nutritional yeast, herbs, spices, and enjoy! Just be sure to eat your greens! You can also cut them into thin strips and cover with a vinaigrette or lemon-juice-based dressing and let them sit until wilted.
FIELD UPDATE

We're excited about starting the harvests. This is what work for, for fresh food from local soils. And we love to share with you all the wonderful stories from the fields and will continue to do so. Life is a miracle, and it's rewarding to watch it unfold in the fields every spring, summer, and fall. Farming is an adventure, a challenge, and always requires the best efforts (and most humility) of everyone involved.
That said, we are also committed to making sure you're not in the dark about the not-so-wonderful sides of farming that may effect your experience. We strive to be honest when to be otherwise would be a disservice.
With that in mind we need to let you know that the weather where we're at has continued to plague our early production. Our soils are overly waterlogged and compacted and a lot of our early plantings continue to suffer. This problem seems to be affecting only our area. According to the University of Illinois Vegetable and Fruit Specialist we consulted our farm has had the luck of being in a unique band of area that has been hit with way more rain than needed with farmers across this area all facing serious crop losses. It's really odd... last Thursday our farm was hit with nearly TWO INCHES of rain in 1 hour, while two miles south was bone dry! Needless to say, this caused yet another moisture-related set-back. The result is that our spring plantings are suffering, and we continue to adjust our summer and fall plans to make up for the losses. The crop roots simply haven't been able to grow in these conditions.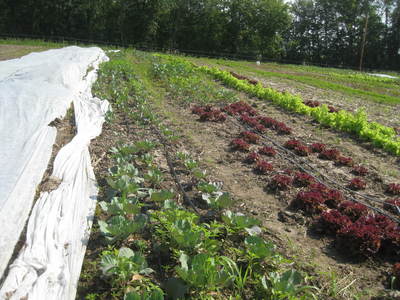 Bad news is never fun to talk about. But we want to assure you that we are doing our best to turn this around, to the extent that we can. Please continue to look for updates every weekend. We are in a sort of crisis mode at the farm, and are rapidly re-adjusting to confront these set-backs. First, we want you to know that we are temporarily pulling out of farmers markets so that you share the entire harvest. We'll stay out of farmers markets until the crisis is averted and crops begin growing well again. Second, we plan on doubling many of our summer and fall plantings to make up for a very slow spring. Third, we are putting a lot more attention and effort towards enhacing the soil fertility in ways that fit this unique situation.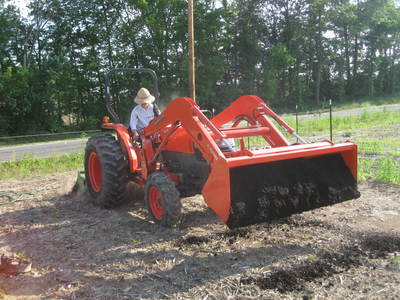 Farming is always characterized by a general uncertainty, which is a part of its allure and and this isn't the first or last time a farm faced drastic set-backs. The best advice farmers give each other is to hang in there and keep planting. The beautiful irony is that the areas of your farm that face crop losses one season often experience a boon the next, since crop losses serve as a defacto fallow. The processes of life continue their work, and we continue to serve these processes and cycles the best we can.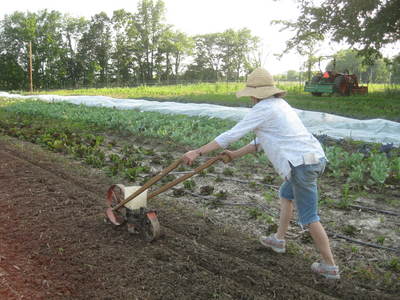 LOOKING AHEAD...

We look forward to putting this slow start behind us! And we hope above all else that our crops turnaround soon and we can continue adding more to each weeks harvests. However, as we continue to confront this crisis in the fields, we'll keep you updated. If we need to postpone additional weeks, please know that we continue to commit to the CSA model and to you as our members, and will re-orient our plans to fit with the season and add value to the latter part of the season. Farming is real honest and rewards patience, hard work, appreciation and respect for the processes of life. We'll be sure to keep you updated as we move forward and keep the faith! Thanks!
Kris & Stacey
Go to June 7 Newsletter
Return to Newsletter Page