June 14, 2010
Week 3 Newsletter, 2010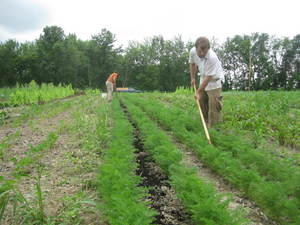 June 13, 2010
We're happy to report another week of progress and signs of summer, and another taste of the spring for you!
WHAT'S IN YOUR SHARE

Both Shares will receive the following: lettuce, kale, scallions, cilantro, basil, kohlrabi, radish/turnips, baby bok choy and escarole with the full share receiving more of some items.
How to use cilantro: Cilantro is a vibrant herb that goes great with any type of Mexican dish, especially beans or salsa. It's a wonderful complement to any non-Italian tomato dish. Also be encouraged to add it to rice dishes to make it green and fresh!
How to use kohlrabi: Peel the tough outer skin and then enjoy the crunchy insides sliced thin as dipping "chips", or in stir fries... it will have the consistency of water chestnuts. This is the first time we've grown kohlrabi in the spring. It should be more flavorful and in greater quantities in the fall.
How to use escarole: Escarole is a very bitter green, so use it in salads with a sweet dressing, or wilt it slightly in a stir fry. Definitely try it! This is a very good vegetable that's more common in Europe than America. We admit that we're still getting used to it, but it's too good for not to try.
How to use basil: Basil is great al fresco - a couple of leaves with a slice of tomato, mozarella on bread drizzled with olive oil. One of our standbys is PESTO! Use basil leaves, walnuts, garlic (or garlic scapes - if you have any left) and oil. Put walnuts, garlic, and olive oil in a foodprossessor until it makes a thin paste. Take the leaves off of the stem and add them to the paste and process adding more oil if needed. You want a nice blend and do it quickly otherwise the basil starts oxidizing and turns brown. Add a bit of lemon juice to help with that at the end. If you've made enough for leftovers, put the pesto in some container and top it off with olive oil - this makes a cap for the pesto. ENJOY!
HOW ARE YOUR CROPS DOING?

All of the summer crops continue to improve. Green beans, tomatoes, carrots, beets, squash and cucumbers are all looking great so far. Peppers needed a little boost this week, but they continue adding new growth. Basil looks fabulous, as do fennel, radishes, summer lettuce and celery. We feel this is a good week of harvests in terms of the variety and quantity that we have been looking for. That said we will probably have a lull during the transition period of finishing out the Spring crops before the Summer crops come on. Thanks for your patience and enjoy the warm weather and tasty meals you make with seasonal, locally grown produce.
This week, we transplanted our third and final rotation of tomatoes. They were at the perfect stage for transplanting, having just reached that point of "taking off". We bury their stems up to their first leaves in order to give them as much contact with the soil as possible. Did you know that the hairs on tomato stems will turn into roots if they touch the soil? It's true. We take advantage of this in order to increase the tomato plants ability to take up water and nutrients.
Tomatoes receive a lot of attention on our farm. Our goal is to get the best production and flavor from every plant (rather than growing ever increasing numbers of tomato plants to the point where we can't manage them well.) We dig a hole for every plant, add copious amounts of well-decomposed compost, a pinch of gypsum, bonemeal and all-purpose organic fertilizer. We mix these amendments in the soil so the tomato roots have a regular supply of goodies as they become established.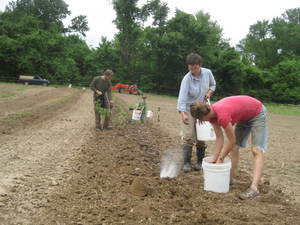 Compost is the world's best soil conditioner, improving soil fertility and plant health not just by adding nutrients, but by improving the physical and biological qualities of the soil. Compost not only improves the nutrition of the plants receiving it this year, but will continue to improve the soil over time. For now we are getting a load from St. Louis Composting Inc. We get a blend of their "Black Gold" and "Bessie's Best." Composting on a large scale requires more materials, equipment, and time than we currently have, but we hope to do it in the future to keep our fertility inputs coming from the farm. As for the other additions, gypsum and bonemeal are naturally occuring amendments that provide phosphorus, sulfur and calcium in forms that were once of basis of soil development before agriculture divorced itself from the cycles of nature. All of our fertilizers are plant- and animal-based sources of nitrogen and other nutrients.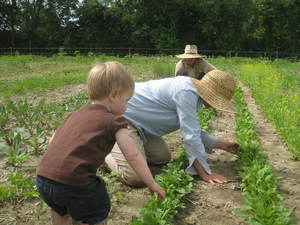 Ecological farming is best when we think months or years in advance. With every action we try to improve conditions both now and months or years from now. So when we "feed" our tomatoes, we're also feeding and conditioning the soil for later. In this way our land becomes resilient and productive; soils are enhanced, built-up, and alive. As a CSA member, you've made a direct investment in improving soil and your future food security. In the meantime, we look forward to continuing harvests that are bigger and tastier as the weeks advance.
Other crops are treated well, too. For instance, we love carrots, so we also give them lots of compost and cultivation. Carrots are very intimate with the soil. We try to select the best and sweetest varieties for our climate, and give them full access to soil and sun. The key is keeping them cultivated. We hoe them every other week or so. But we like to add compost while we hoe them, which saves times and makes our work that much more effective.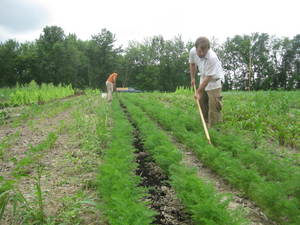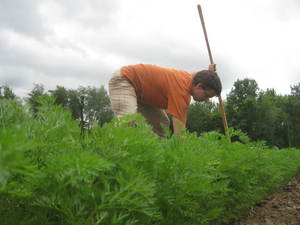 REMINDER: Maplewood delivery is THURSDAY this week (and this week only). For any questions please contact us at membership@riverbendroots.com or 618-444-0567. Thanks!

Also... please remember, if you take your box home, to bring it back the next week when you pick up. Don't tear the tabs. Simply squeeze them out of their slots. And remember to keep them out of the sun and rain. The boxes should last all season if handled well. Thanks!
And finally....
DO YOU WANT LOCAL, ECOLOGICALLY-RAISED PORK?
As promised to all of you looking for local sources of meat, we've connected with local animal producers at Live Springs Farm in Carrolton, IL. Alex and Bobbi use Biodynamic practices on their farm, which is the best of the best. They are young farmers looking for customers, so if you're interested let us know! Or you can contact them directly at bobbi.sandwisch@gmail.com or 217-942-5060. It's possible we could work out bulk purchases and deliveries, but we'll figure it out once we have a better idea of who's interested. Just let them know that you're a member of Riverbend Roots so we can look more at organizing this partnership better. Here's their message to you:
"Hello members of Riverbend Roots CSA! We are the farmers at Live Springs Farm a 610 acre farm in Carrollton, IL. We are happy to be partnering with Kris and Stacey and the farm to be able to add some of our products to their diversity of vegetables. One of our goals is to continue working with other local growers producing wholesome food in responsible ways in order to enhance the availability of local food supplies and build a strong farm network.
Currently on our farm we grow a diversity of certified organic crops while also applying the principles of biodynamic farming. We use a crop rotation that incorporates small grains, legumes, and hay. The benefits of this rotation are tremendous for the health of our soil and in turn our farm overall. Growing these crops on our land then allows us to support animals without buying much off-farm feedstuffs. Currently we raise pigs and chickens and will be grazing cattle beginning this fall.
We are now offering a large diversity of pork products from our pasture raised pigs. We raise two heritage breed pigs that do well outdoors and are known for producing some of the most flavorful pork. That flavor is not purely genetic but is also largely related to what the animals eat and the way they live their life. The pigs are raised outdoors from early spring to late fall where they can be found all over the farm grazing white clover and alfalfa fields, scouring leaf litter in the forests looking for pecans and hickory nuts, lounging in a stream, or just being playful on the pasture. They are supplied with our own organic grains and small amounts of supplemental organic and non-GM (genetically modified) grains. All of our animals are treated with the utmost care and respect. We have a great appreciation for them and the wonderful products they offer.
We are very excited about the quality of the pork and look forward to offering even more pasture raised chicken next year and grass-fed beef in 2011!
Thanks for your interest,
Bobbi Sandwisch and Alex Weber"
Until next time... enjoy the last of spring! As always, thank you for your support and encouragement! We couldn't do this without you... Kris & Stacey
Go To June 21 Newsletter
Go To June 7 Newsletter
Return to Newsletter Page