July 5, 2010
Week 6 Newsletter, 2010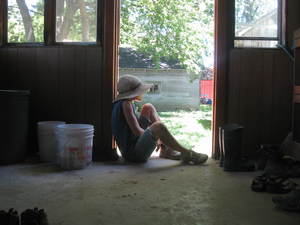 July 4, 2010
Happy fourth of July! What gorgeous weather we've had! How did we deserve the low 80's, with 40% humidity last week, the kind of weather that fills you with energy and hope? All we can say is that it made for a lovely week of weeding and harvesting. Of course, it won't last, but these occasional spates of sweet weather are always welcome.
New crops fennel and parsley are featured this week. Fennel is a beautiful plant; every morning the first light has been stunning as it weaves through the dew-soaked fronds of fennel. The big secret with parsley is that it is one of the most nutritious and cleansing foods out there and a breath-freshener direct from the garden.
With hotter weather in store we're bracing for the rest of the summer by staying ahead of the weeds and beginning our first fall sowings.
WHAT'S IN YOUR SHARE

Full Share: Lettuce, fennel, parsley, baby carrots, beets, radishes, scallions, , cilantro, basil
Half Share: Lettuce, fennel, baby carrots, beets, radishes, basil, parsley

Depending on the quantities coming out of the fields at one time each share may also include summer squash and/or cucumbers, as well as dill, chinese cabbage, or potatoes. We will keep track so if certain folks get one item but not the others, we'll switch it in the future.

How to use fennel: Fennel, like beets, is two items in one, the bulb and the leaves. With fennel, think licorice, the flavor it most resembles. We like to cut the fennel lengthwise; take the tougher center out and cut widthwise into thin slices. Make a dressing of olive oil, apple cider vinegar, minced shallot, minced parsley and salt & pepper. Toss it all together and enjoy the salad. The longer you allow the fennel to marinate the more tender it will be.
For those with more sensitive palates, fennel is best grilled or roasted. In fact, most vegetables are fantastic grilled! Slice fennel vertically into thick slices (removing the leaves for use in dressings), toss with olive oil, salt and pepper, and grill unto just browned. Toss with other vegetables or enjoy it by itself.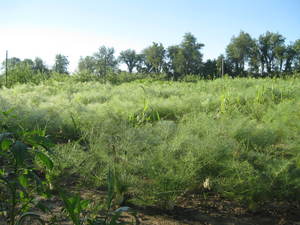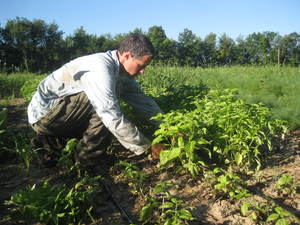 How to use parsley: Our favorite way to eat parsley is to simply eat it raw from the field or fridge. Just chew on it. You can also chop it up and add it to any salad dressing... or, for the meat-lovers out there, chop it up and add it as a garnish atop steak, roasted or grilled chicken, etc. Parsley is the epitome of green. If you like it, and want more of it, just let us know. Right now, we grow enough to harvest once in a while. If we know it's more popular, then we'll happily grow more.
Some crops are going out of season for a while: The "cool" season is over... for a couple of months. This means that the season for crops like lettuce, radishes, cilantro, chard/kale and any other "green" is officially over until September. It's just too hot! That said, we're always trying to extend the season for these crops into the hot season by selecting varieties that are more heat tolerant. Our favorite seed companies are always trying to find new varieties that can help us with summer growing. So... we continue planting lettuce, radishes and cilantro into the summer just to trial them and see how they work. Radishes get spicy, and lettuce gets a bit on the bitter side. We appreciate your feedback so we can plant more in the future or not at all. This week you'll get varieties of lettuce like Sylvesta, Tropicana and Nevada. See if you like them. And let us know.
WEEDS ARE IN SEASON!

These days we're weeding a lot! Growing ecologically means that we pull or hoe all of our weeds by hand, which means a lot of work and long days. In truth, though, sustainable gardeners and farmers deal with weeds for only 5 months or so. We start hoeing the first weeds in mid-to-late April and see weeds decline as early as late September. It's not like we're ALWAYS pulling weeds. It's just that right now we're in the thick of it, since weeds are at their peak in both germination and growth. With the summer now upon us weeds can grow inches within a given day especially in the weeks with both rain and heat. Plus, a crop of weeds is more effecient at colonizing an open field then any cultivated crop. It's their nature to keep the ground covered.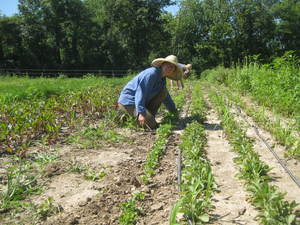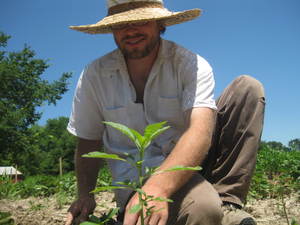 You must stay ahead of weeds. If you weed thoroughly and in a timely manner, then crops should never face much direct competition, and it should be easy to continue staying ahead of them. In fact, there are many times that weeding can be downright fun. We love moving through beds at a good pace, clearing out weeds, loosening our soils, incorporating composts, and promoting crop growth only to turn around and see beautiful beds of freshly cultivated crops in our wake (when you see a picture of a beautiful farm with immaculate rows of crops and rich-looking soil, the picture was almost always taken just after a good cultivation.)

In order to keep weed management relatively sane, we maintain a reasonable schedule of cultivation that works on two-week intervals. We hoe our crops two weeks after sowing or transplant, then hoe or hand-weed again two weeks after that. We want the weeds to have enough time to germinate and grow a little, and then we intentionally weed them out VERY well. If we do an excellent job every time, then we don't need to put more effort into weeding than is necessary. A poor job means that we're back in there weeding again and again. We don't like that, so we do our best to be methodical, focused, reasonable and thorough when it comes to weeds.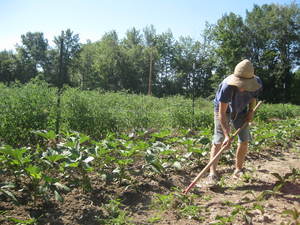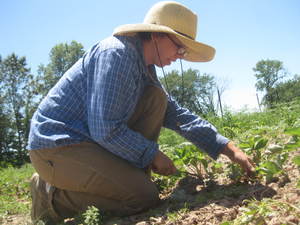 ALL TOMATOES TRANSPLANTED, FED, WEEDED AND MULCHED

We finished mulching the last of our tomatoes, so now we're ready to watch them grow and turn out all their beautiful fruits. We'll continue irrigating and feeding as necessary... and spraying our organic sprays to combat leaf diseases... but it's a pleasure seeing several beds of fully mulched tomatoes. It's a wonderful sight...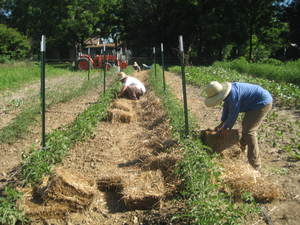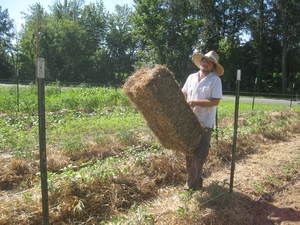 ABOUT THE DELIVERY BOXES....

Almost everyone receiving share deliveries outside Alton is taking great care of the delivery boxes! Thank you! We're excited to continue working out the kinks to make it easy for everyone in the metro area to have regular access to local, fresh produce.
There are still some, however, who aren't returning boxes. Missing a week or two is fine... we do have some extra's, and understand busy schedules, etc., but we need to keep re-using the boxes to keep them out of the landfill as long as possible and to keep from having to purchase more this season. If we lose too many, then we'll start losing money on deliveries. We don't want to make a big deal about it, but just want to make sure everyone knows to return the boxes... if someone else picks up for you, then be sure they know, too, to get the box back to you...
Also, please make sure to take only the share size that's yours. On a couple of occasions a Full Share member has left without their full share, which means a Half Share member took the wrong box. We rely on the honor system, which works remarkably well, to keep this going. If it breaks down, then it becomes difficult to build a local food network like this in the long run... If you do fail to find the right box at your drop spot, or if you have any questions about the shares, then please let us know ... Thanks!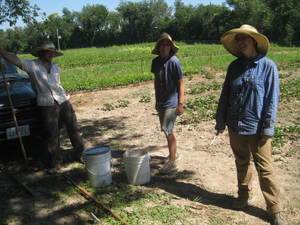 LOOKING AHEAD...

Fall sowings start this week, while we walk the tomatoes and beans looking for the first ripening fruits. We hope the transition from spring to summer continues smoothly. The crops are generally looking good and we continue putting in the work to keep them that way. July can be productive, but it's also the time when diseases and pests come into their own, so we're on the look-out for any problems like that. Peppers, leeks and eggplant are coming along, but are still a month from harvests. If temperatures cool off at any time, then we'll start our spinach and salad mix a lot earlier than normal. As always, we take the season as it is, and do our best to work with the weather, temperatures, fluxes and flows...
Until next week...
Kris and Stacey
Go To July 12 Newsletter
Go To June 28 Newsletter
Return to Newsletter Page