September 20, 2010
Week 17 Newsletter, 2010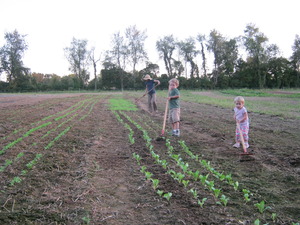 September 20, 2010
Everybody gets lettuce this week, the very lettuce that survived both the August heat wave and the five pounding rainstorms since. These lettuce heads are truly troopers, real survivors, and are officially "early" fall lettuces. If they taste good, then we'll add them to the permanent sowing schedule next year. We lost many of them to the heat and rain, so next year we should have a LOT of lettuce this time of year. There are several other crops in the coming weeks, too, including a lot of greens. We did get another heavy overnight rain all Saturday night into Sunday morning, leaving us a little baffled at how insistent the rain is in our neck of the woods. We continue sowing seeds this week,though, and adding to the fall rotations. Enjoy!
WHAT'S IN YOUR SHARE
Full Share: Lettuce, Potatoes, Radishes, Summer Squash, Cucumbers, hot peppers, sweet peppers, eggplant, parsley, basil
Half Share: Lettuce, Eggplant, Summer Squash, Cucumbers, Basil, Parsley, Hot Peppers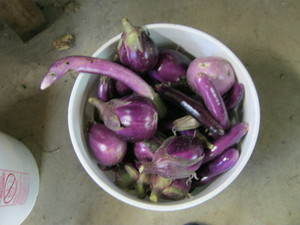 For recipes, check out Amanda's recipe blog! Here's another great recipe blog from Amanda (http://www.recipesfromriverbendroots.wordpress.com):
"One of my favorite parts of fall are the root vegetables. One of my favorite ways to enjoy them is roasted with a fresh herb and lots of salt and pepper. Last night for the potluck I made two pans of them and even added some apples and they disappeared. This recipe, like many I share, can be adjusted for the quantity and variety you have on hand.

Ideally, all the vegetables are cut to roughly the same size so they cook evenly. Beets will take about 15 minutes longer to roast than carrots and potatoes. You could cut them a little smaller. I leave the skins on all of the vegetables. I recommend having a number of hands to help chop. I love the dish, but the prep takes some time alone."
Oven Roasted Root Vegetables
serves 2 who really like them, or maybe 4 as a little side
Cook time: 45 minutes – 1 hour
4 carrots, thoroughly scrubbed and chopped into 1/2 inch-long chunks
2 onions, cut into chunks roughly the size of the carrots
3 potatoes, scrubbed and chopped
2 apples, cored and chopped
4 beets, scrubbed and chopped (leaving 1″ of stem reduces juice from escaping, and changes the eating experience)
1/2 sweet potato, chopped
1/2 winter squash, seeds removed and peeled, chopped
A TBSP of cleaned leaves of savory, rosemary, thyme, marjoram, or another herb of your choice that can handle roasting
5 cloves of garlic, peeled and chopped
Salt and pepper generously, to taste
Set the oven for 400 degrees F. Use olive oil to grease a 13 x 9″ pan. In a large bowl, combine all vegetables including the garlic and excluding the apples. Add enough olive oil to coat the vegetables when they're tossed in it. Add generous amounts of salt and pepper. Add the herb leaves and toss all together, coating the vegetables, leaves, and garlic. Pour all into the pan and place in the oven. Every 15 minutes or so, move around the vegetables so all sides get cooked and don't stick to the pan. Now about the apples….
There should be enough oil left in the bowl to coat the chopped apples. With about 30 minutes (of the 45-1 hr. of cook time) to spare, add the coated apples to the pan. Cook until all is brown and tender, easily pierced by a fork.
MEAT ORDERS DUE THIS WEEK
If you want meat delivered from Live Springs Farm next week, please contact them this week through www.livespringsfarm.com. Delivery options are somewhat limited, so if you have any questions, please let us know!
HOW DO WE LEARN HOW TO GET BETTER EVERY YEAR? NEVER SAY NEVER... AND LET CHILDREN PLAY!
People have been farming for 10,000 years, give or take, so our inheritance in wisdom is enormous. Good agriculture is based on principles and practices that are tried and true, and it's smart to stick to what has worked for years. There's a way to sow seeds, a way to harvest, for instance, that we share with farmers and gardeners all over the world and across a thousand generations.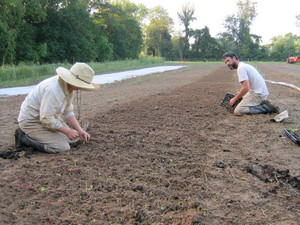 However, we should NEVER forget that almost all agricultural innovations started out as accidents! And most innovations in agriculture, including it's "invention", in fact, were almost always accomplished by those who were not "in charge" of their societies. While men dominated a lot of pre-historic societies (though not all), women (and children) were the most likely inventors of agriculture, as they experimented with the sprouting seeds growing from various places near where they lived. Somebody "accidentally" tasted a wheat seed sprouting, and then sowed it by "accident", and what do you know? The revolution commenced!
One of the attributes of local agriculture is that lots of small, independent, community-oriented farms can try innumerable new techniques and react FAST to any problem by implementing any number of small innovations. Because we work close to the land, we can make dozens of little mistakes only to find out that one or two are a better way of doing something. As long we talk to each other... We can try new things. We can let "accidents" teach us to do things better.
This is a long way of saying that children today can teach us how to farm better. Here's a case in point:
Back in August, I spent weekends sowing extra lettuces and other crops in the greenhouse for fall transplant. Our son Jacob wanted to help. Sowing lettuces requires more precision than a 5-year-old can muster, so I turned him loose on a bag of seed packets we had from a food pantry donation. He loved it! Unlike our "bulk seed" packets (that are all business), these seed packets had pictures of all the vegetables, like you'd see in a retail garden store. He picked out all his favorite vegetables, poured them into the seeding trays, and that was it. We watered the seeds for him and they all germinated!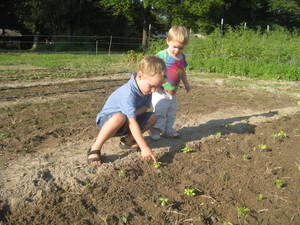 Of course, he didn't do it "correctly". He sowed some seeds, like carrots and green beans, that you "never" transplant. Carrots and beans are always sown directly in the soil, NEVER transplanted. But... I promised him that we would transplant them for him, and so we did.
Guess what? Jacob may have "accidentally" figured out how to grow beans and carrots during a bad weather year like this! All the pounding rain we received this summer prevented most of our summer carrot and bean sowings from germinating. They either rotted time and time again, or they couldn't break through the ensuing surface crust. But, in the greenhouse they germinated just fine. I was almost jealous. Here I am running into a wall of failure in the fields, and Jacob's seeds germinate just fine!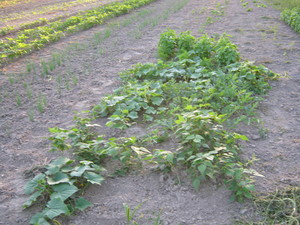 We transplanted them, and they actually took! You NEVER transplant carrots, but these worked! I remember telling our apprentices Justin and Amanda to watch these carrots and beans, because you never know. What if they actually grew well? The implications are amazing. If these carrots and beans actually grow well, then we now have a way to overcome the kind of troubles we've had this summer. If this kind of weather happens again, we can prepare ourselves by sowing carrots and beans in seedling trays for later transplant.
The jury is still out, but the point remains: never say never, and always let "accidents" run their course. You never know how the next innovation will happen...
AN OVERVIEW OF THE SEASON SO FAR.... HOW C.S.A. SAVES LOCAL FARMING
Community Supported Agriculture was created in Japan and Europe following World War II, and then took root in the United States in the 1980's, for one major reason: to make sure local farms survive bad years. The original CSA members were alarmed at how susceptible small, independent, local farms were to the pressures of weather, diseases, global markets, etc., and vowed to share the risks of farming with farmers in return for sharing the harvests during both bad and good years. They were dismayed at how one bad year could put a farm out of business regardless of how important that farm was to local food supplies. By now, CSA's have grown into a powerful way to not just ensure the survival of local farms and food supplies, but to build thriving local food networks and ennable new farmers to establish new farms and networks. Because you share the risk, we're able to take the risks of being full-time farmers despite the uncertainty inherent in agriculture.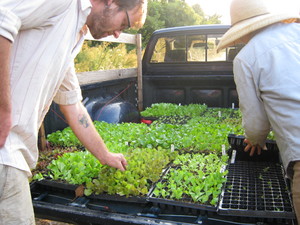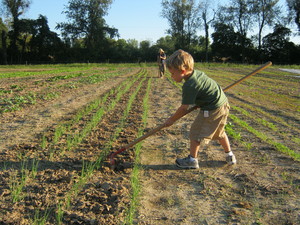 As a CSA member, never forget that you directly make local agriculture happen. By now we know this has been a rough year for the farm. The weather in May nearly wiped out most of our spring plantings, and the turnaround we were working on ran into even worse conditions throughout July and August, and has even continued into September. We have counted on the weather to let up, but it never did. Nevertheless, you and your investment have kept us farming. Not only that, but time and time again, we're able to continue a high-level of management that invests first in the land, the soil, and the fertility of the entire farm. Without the support of all of your memberships, a random bad year would make it difficult for us to either continue farming or to continue the long-term land management that keeps farming organic and ecologically-sound. You are making this work.
All that said,we know that some of you have been disappointed at some of the limited offerings in your share. Experiencing a down year is easier said than done. We want you to know that we share your concerns! We're right there with you. The fact is that Stacey and I got into farming and became full-time farmers because we love growing LOTS OF GREAT, FRESH, TASTY FOOD.... We love producing bountiful harvests, and we LOVE sharing them with you! We want to fill your kitchens with a cornucopia of fine fresh foods, and we pride ourselves on managing the farm , the land, the business, and our workdays in such a way as to accomplish this in an intensive, effecient way. We LOVE being generous with the harvests. So, hard years are... hard. They're hard to take.
There's that one problem: the weather controls everything, and we don't control the weather. That's the bargain we make when we farm, when we forego more lucrative or stable forms of employment. We know this, but it doesn't make the random bad year any easier to take. We've lost a lot of crops this year, crops that we love to grow and feel like we do really well. Watching our work wash away like it has this year makes us feel helpless and discouraged. It's embarassing to tell you about all the crops we're planting only to lose them. It's hard to watch our hopes for reaching wider markets this year fail. It's hard to tighten our belts and worry about finances after working so hard. There's not much we can do but be sad and start over, which we do.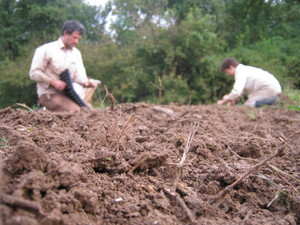 BUT, since we all go through this together, as soon as we can, we love to make up for it and then some. YOU are the reason we're able to do this, and we want to be your farmers for a LONG TIME. You are the reason we farm, why we've committed to a profession that most people get out of. We love this direct connection with you... Your investment has gone into the soil, the infrastructure, and the foundation of a local farm. This is the year that you've shared the risk, shared in the crop losses, shared in the deluge we got up here all summer. We want nothing more than the opportunity to continue being your farmers in the years to come, to make up for the crop losses and show you the full value of your commitment.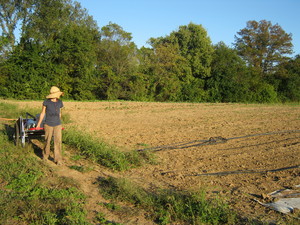 Many of you have given us lots of encouragement this year, and it means everything to us... But, we understand any disappointments you might have. It's been that kind of year, the kind we know will happen every now and then, but prefer not to experience. If you're tired of hearing us gripe about the weather, or lower than expected harvests, we hear you. We are, too. It's just that we woke up to ANOTHER unexpected heavy rain on Sunday, and were concerned about our fall crops. We just need to be upfront so that there's no misunderstandings about why your share is the way it is. It's always honest, brutally honest... and real...
That said, there's a lot to celebrate. There's many great flavors to come. The land is more fertile than before, and our investments in the good stuff will reward our patience and efforts. We've taken a lot of hits this year, and are ready to get over it, and celebrate what we do have... Thank you!
LOOKING AHEAD...
A lot of greens are coming... broccoli raab greens, chard, kale, collards, and more salad mix! This time of year, the nutritional value of the harvests shoots way up, which is just in time to start building immunity for winter. We'll be sure to give you lots of ways of preparing all these different greens, and then some. Share ideas, too, if you like!
And, next week we are opening up memberships for next year! We'll give all the information you need, but if you have any questions now, please let us know!
Until next week...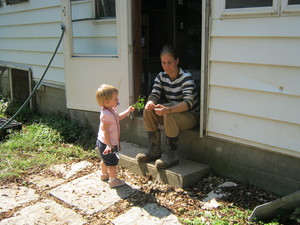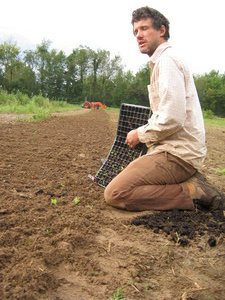 Kris and Stacey, and the rest of the Riverbend Roots family!