Kohlrabi Recipes
How to Approach Kohlrabi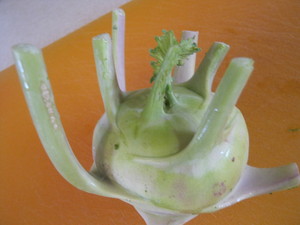 When you get this most odd-looking vegetable, where do you even start? The first thing is to look past its funny appearance. It's just the swollen stem of a broccoli-relative, and all those fingers pointing up are leaf stems that we cut away at harvest. It might look like an UFO or moon lander, but don't judge the poor kohlrabi.... it's not its fault....
So... cut away all the outer "stuff"....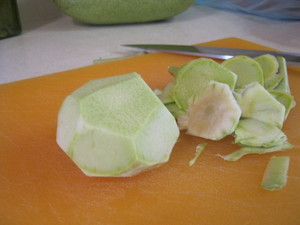 ... and now there's something to work with!
Once you cut away all the outer layer, enjoy it raw - sliced like a cucumber.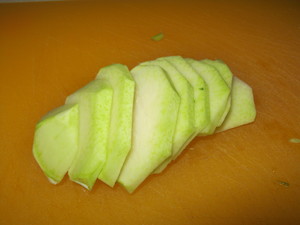 Or you can cube, slice or shred it for stir fries and salads. It really is a fantastic vegetable that continues to impress us with its sweet broccoli flavor and versatility.
Austrian-style Kohlrabi
from Jeff Cox, The Organic Cooks Bible, 2006
Austria is kohlrabi country, and the Austrians have a simple way of preparing the globes that allow their delicate flavor to come through.
2 lbs. kohlrabies
3 Tbsp unsalted butter
½ tsp sugar
3 Tbsp all-purpose flour
½ tsp chopped fresh parsley
½ cup vegetable stock
salt to taste
1. Bring a large pot of lightly salted water to a boil. Add the kohlrabies and boil for 15 to 20 minutes, or until soft through when pricked with a fork. Drain, let cool, then peel.
2. Melt the butter in a skillet over medium heat, add the sugar and stir until the sugar browns slightly. Blend in the flour and parsley. When the flour is well saturated and bubbling with hot butter (a minute or two), add the stock and bring to a boil.
3. Add the peeled kohlrabies and stir until they're heated through. Serve immediately.
Kohlrabi with Horseradish
from Deborah Madison, Vegetarian Cooking for Everyone, 1998
4 or 5 kohlrabi, about 1 lb., peeled
2 to 4 Tbsp crème fraiche or sour cream
Prepared horseradish in vinegar
2 tsp chopped dill
Salt and freshly milled pepper
Slice the kohlrabi into julienne strips or wedges. Steam until tender, 5 to 8 minute, then remove to a bowl and toss with the crème fraiche, horseradish, and dill. Season with salt and pepper to taste.
Hungarian Kohlrabi Soup
from Christopher Lee, Café Ventana, feastSTL.com, March 2011, page 34
2 strips bacon, chopped
1 Tbsp unsalted butter
½ onion, julienned
2 cloves garlic, minced
2 stalks celery, chopped
1 large carrot, chopped
2 Tbsp chopped fresh parsley
4 ½ cups chicken stock
3 lbs. chicken, back removed, cut into 8 pieces
1 lb. kohlrabi, with leaves
1 ½ Tbsp fresh lemon juice
salt and freshly ground black pepper
Saute bacon in medium sauce pan over medium-high heat until crisp. Add butter and onion; cook about 2 to 3 minutes, until onions start to wilt. Add garlic, celery, carrot and parsley. Cover and cook until vegetables are tender, about 10 minutes.
Transfer mixture to a blender and blend until smooth. Strain mixture into large saucepan and heat to a boil. Add stock and chicken. Lower to a simmer, cover and cook until the chicken is tender, about 30 minutes, occasionally skimming the surface of fat.
While chicken is simmering, trim, peel and dice kohlrabi. Wash the leaves and blanch them in boiling water. Shock the leaves in ice water, drain and reserve.
Remove chicken from soup and add diced kohlrabi. Cook, uncovered, for 15 minutes or until kohlrabi is tender. Remove the bones and skin from the chicken and cut the meat into chunks.
Simmer the soup for 10 to 15 minutes, until it reduces a little. Add the chicken and kohlrabi leaves. Simmer the soup for 5 minutes more, and then add lemon juice. Season with salt and pepper to taste.
Kohlrabi & Fennel Salad
from Cooking from the Garden, edited by Ruth Lively, 2010, p. 70
6 to 8 small kohlrabies (1 ½ cups)
1 medium bulb fennel with leaves
¼ cup chopped fresh parsley
5 Tbsp olive oil
1 Tbsp freshly squeezed lemon juice
1 Tbsp white-wine vinegar
½ tsp sugar
¼ tsp salt
1/8 tsp freshly ground pepper
Prepare kohlrabies by peeling them and cutting off the tops and bottoms. Cut the bulbs into julienne until there is enough for 1 ½ cups.
Remove the outer layer of the fennel bulb if it is tough. Reserve the leaves. With the fennel lying on a cutting surface, slice it down the middle and, with a paring knife, remove the core from each half. Slice the fennel thin; the pieces will be semicircular. Mix the kohlrabi and fennel in a bowl, and add the parsley and 1 Tbsp chopped fennel leaves.
Whisk together the remaining ingredients, and toss the dressing with the kohlrabi and fennel. Allow the salad to marinate for 1 hour before serving.
Recipe by Ashley Miller
Tips:
- Kohlrabi can be prepared in any way that turnips are.
- Kohlrabi is delicious sliced into thin wedges and sprinkled with sea salt or grated into salads.
- Kohlrabi goes well with butter, sour cream, dill, mustard, and horseradish.